Latest News
MEDIA RELEASE: SISO CEO Summit brings together the industry's biggest and brightest independent thought leaders
28 Mar 2022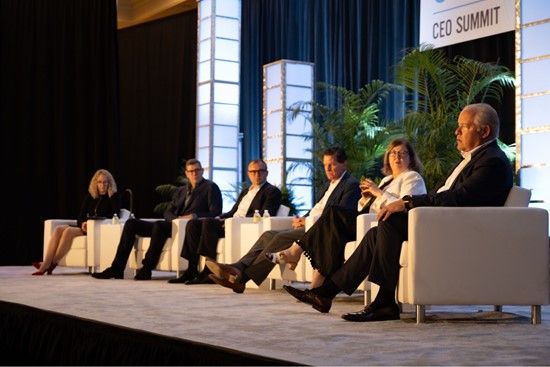 March 28, 2022 (ST. PETERSBURG, FLORIDA) – More than 300 registered independent show organizers and C-level executives from sponsoring companies gathered for the Society of Independent Show Organizers (SISO) CEO Summit, held March 21-24 at the Vinoy Renaissance, for three days of networking and education.
"After the last two years, you could tell that everyone was extremely happy to be back together in-person," said SISO CEO David Audrain. "The SISO CEO Summit is the largest and most recognized annual gathering of the leaders in our industry, and it was most definitely back to business for us all!"
CEOs from all major independent organizers were in attendance, including: Informa Markets CEO Charlie McCurdy, RX Global CEO Hugh Jones, Emerald CEO and President Hervé Sedky, Tarsus Group CEO Doug Emslie, Clarion Events CEO Russell Wilcox and Diversified Communications CEO Ted Wirth.
"It has been a true honor to serve with such a talented group of professionals as we have worked together over the past year to address the many challenges facing the exhibit and trade show industry," said Sedky, outgoing Chair of the SISO Board of Directors. "This effort is a testament to the resiliency of our collective strength as we have not only returned to safely staging successful in-person events during the ongoing pandemic but have also helped SISO to serve as an incubator of thought-provoking discussions focused on greater sustainability initiatives, advocacy support and diversity and inclusion for our association, community, and industry. I believe we have laid a strong foundation for this important work and look forward to our continued progress under the leadership of the SISO board and our new Chair, my friend and colleague, Cassandra Farrington."
Leaders in attendance on the sponsor side included: Las Vegas Convention Visitors Authority VP Business Sales John Schreiber, ASM Global EVP Convention Centers Bob McClintock, New York Convention Center Operating Corporation President and CEO Alan Steel, Freeman President Bob Priest-Heck, Berkery Noyes Investment Bankers Managing Director David Loechner, Orange County Convention Center Executive Director Mark Tester — to name a few. A full list of attendees can be found here.
"SISO is extremely lucky to have a tremendous group of Sponsors who support us year-after-year. They enable us to deliver a world-class event every year, and we are very grateful to them all," Audrain said.
In 2021, only a handful of international delegates were able to get into the U.S. to attend the SISO CEO Summit. But as Covid cases have declined and restrictions have been eased in 2022, more international attendees were able to return to the CEO Summit. The event attracted top executives from Brussels Expo, RAI Amsterdam, Hamburg Messe und Congress, Abu Dhabi National Exhibitions Company, Singapore Association of Convention & Exhibition Organisers & Suppliers, European Exhibition Industry Alliance (EEIA) and European Major Exhibition Centres Association (EMECA) and the Association of Event Organisers Ltd (AEO).

CRITICAL CONTENT FOR C-LEVEL EXECUTIVES
The week kicked off on Mon., March 21, with two half-day forums, the Small Business Roundtable and the Women's Executive Forum.
The Small Business Roundtable featured programming developed by Small Business Special Interest Group (SIG) Co-Chairs Phil McKay, President and CEO of nGage Events, and Stephanie Everett, COO and Partner, ExpoDevCo. SISO's Small Business Roundtable was jam-packed with content geared toward the key issues impacting small businesses, including: ongoing pandemic issues, road to recovery, staffing/recruiting, virtual/hybrid events and the path to profitable year-round community models and new business development.
The Women's Executive Forum featured programming developed by Women's SIG Chair Rachel Wimberly, EVP Business Development and M&A for North America, Tarsus Group. The Women's Executive Forum featured a keynote, Non-Negotiable Tools for Mental and Emotional Fitness, by Leigh Weinraub, Founder of Mind in Motion, followed by a Call to Action Group Walk and Talk to digest the keynote content, unplug from technology, share perspectives and allow the power of nature to promote genuine connection. Moderated by Informa Markets Fashion President Kelly Helfman, a panel on Managing through a crisis featured Diversified Communications President Mary Larkin, RX Chief Growth Officer Yancy Weinrich and Informa Markets Senior VP and Market Leader for the New Hope Network in the Health & Nutrition Portfolio Carlotta Mast.
"It's very fulfilling to see on clear display here the SISO CEO Summit the cohorts that are so important to my own background," said newly installed SISO Chair Cassandra Farrington. "SISO's small business membership is bouncing back post-pandemic, and there are increasing levels of diverse leadership within SISO member organizations. As I step into the Chair leadership role for 2022-2023, I'm both honored and excited to ensure those groups are represented effectively within our organization."
The main event featured one and a half days of programming covering a wide range of topics — from What is the New Normal? and Covid-19 Forecast: The future course of the pandemic to Customer Journeys: Using content and data to grow your audience and community and Multiple Realities: The state of M&A today.
In lieu of speaker gifts, SISO donated funds in each speakers name or organization to the One Tree Planted project in an effort to reduce its carbon footprint and enhance its sustainability efforts. "We not only have trees planted around the world in the speaker's name, but also we are contributing to the Net Zero Carbon Events initiative," Audrain said. One Tree Planted is essential to the reforestation, conversation and protection of endangered forests around the world.

KRAKOFF AWARD
SISO has awarded the industry's most prestigious award, the "Robert L. Krakoff Industry Award of Excellence," to Lew Shomer, Chairman, 5Net4 Productions. Shomer served as Executive Director of SISO from 2009 to 2015. Shomer was SISO's Chairman in 2004 and served on SISO's Board of Directors for nine years. His firm produces the Abilities Expo, a consumer show that brings ability-enhancing products and services to the community of people with disabilities held annually in seven major U.S. cities.
This award is named in honor of a legend of the industry, Robert L. Krakoff, who built and ran some of the most successful businesses in the exhibition industry. It is the only award that SISO gives out, and it is only given to the most impactful leaders of for-profit businesses in the exhibition and event industry.
"The Robert L. Krakoff award is the most prestigious award for for-profit organizers," said Doug Emslie, President, Tarsus Group. "It's for an outstanding individual who has shown leadership, innovation and who has made a major contribution to our industry. Lew Shomer has not only done this in building his own business but also in the way he relentlessly rebuilt SISO to what it is today. On a personal note, he was the reason I joined SISO and also the reason I stay in SISO."
Emslie presented the award to Shomer during the annual business lunch on Tues., March 22. "SISO changed the direction of my career, but the people I have met through SISO have become my closest friends, and in our industry it's the most important aspect of doing business," Shomer said. "Thanks to the Board and membership."
Shomer holds a BA from Ohio Wesleyan University and an MBA from The Bernard Baruch Graduate School of Business at CCNY in New York. His career started with IBM in New York, and he later joined Honeywell Information Systems in White Plains. He moved to London in 1967 and spent 10 years as Vice President, International Operations for Computer Investor's Group, a leading computer leasing company. When he returned to the U.S., he held various sales, marketing and general management positions with Mohawk Data Sciences, Novation, Inc. and Pertec Computer Corporation.
Before launching 5Net4 Productions and Shomex Productions in 1984 with his wife Clare, he was Vice President, Marketing and Sales for The Interface Group, producers of COMDEX. He served on the Board of Directors for The American Friends of the St. Petersburg (Russia) Philharmonic. Shomer is a 15-year member of the NAACP Board of Trustees, Special Contributions Fund, serves on the Image Awards committee, and is a Golden Heritage Life Member.
A list of previous Krakoff Award winners can be found here.
Photo caption: During the opening general session at the SISO CEO Summit, independent trade show leaders discussed what is the new normal post-pandemic. From left to right: RX Global CEO Hugh Jones, Diversified Communications President Mary Larkin, Informa Markets CEO Charlie McCurdy, Emerald CEO and President Hervé Sedky, Clarion Events CEO Russell Wilcox and SISO Chair Cassandra Farrington.
For additional images, please contact SISO Content Director Danica Tormohlen.
###
SISO members include companies, corporations and other for-profit entities that own, produce or provide full-service management of "face-to-face" trade shows, consumer shows, expositions, conferences and events. SISO membership is a combination of large corporations and small entrepreneurial enterprises that do business around the world.
SISO's 200-member companies produce thousands of events around the world. SISO's Mission, is to meet the common needs of our members, by providing peer networking opportunities, education, industry information, streamlined business processes and best practices in the industry.
For more information on SISO, the SISO CEO Summit, the SISO Summer Conference, and the Asia CEO Summit, please visit www.SISO.org, or contact David Audrain, SISO CEO, at 404-334-4585 or David@SISO.org.