Turning Point
Turning Point - An Interview Series
18 Jun 2020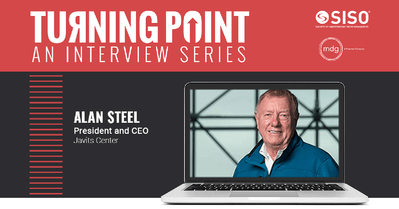 Over recent weeks, SISO and mdg have brought you an inside look at how leading show organizers are thinking through new challenges and planning for the future. In upcoming installments of Turning Point: An Interview Series, we've invited venue operators to share how they're adapting to meet today's demands and how the community can work together on a successful return to live events. Here, you'll learn what Javits Center president and CEO Alan Steel is doing to create a safe environment for attendees (and why he is proud to run toward a challenge).
---
First, what's been happening at the Javits Center since live events were paused?
The Javits Center is one of several venues across the United States that was repurposed as a temporary hospital in the fight against COVID-19. This was a massive undertaking and, as members of the events industry, our experience played a pivotal role. We worked with more than 20 federal, state and city agencies on site as the temporary hospital was designed and constructed in a matter of days – thanks to our labor workforce and our business partners. In total, nearly 1,100 patients were treated and our facility served as a model for other similar venues across the country.
---
How are you getting ready for the return of live events?
Now that we don't have any more patients onsite and statewide hospitalizations are trending down, we are cleaning and sterilizing all of the hospital room units and equipment and removing them from the property. We have consulted with an infectious disease specialist and local health officials to enhance the safety of the center, ensuring the sanitization process is thorough, efficient and effective. Specifically, we've installed specialized air filters and have implemented new cleaning procedures. We're also considering additional measures, such as temperature screening and walking paths, to protect visitors while still creating a comfortable experience that encourages interaction and networking. A draft of our Reopening Plan has been shared with event producers and business partners to finalize procedures on how to coordinate, construct and host events in this new environment.
---
How do you think the pandemic will shape the future of face‑to‑face events?
In the coming months, there will be a demand for smaller events. Once customers become accustomed to a new way of operating, events will gradually grow in size and scope. Today, safety is at the forefront of everyone's mind – and it will be for the foreseeable future. It is imperative for organizers and venues to work together to reimagine events and ensure our businesses come back stronger than ever. They must be produced in a smart, safe and coordinated fashion, and that means a heavier burden on both groups. To achieve success in uncertain times, collaboration will prove critical.
---
Are there any learnings from past challenges that you think translate to the current situation?
In the aftermath of 9/11, the Javits Center served as a staging area for first responders, and in the days after Hurricane Maria devastated Puerto Rico, the venue served as one of New York's main collection points for donations to the island and its people. By supporting New Yorkers in need, we have continued to reinforce the importance of the events industry and its positive impact on the community. Since so much of our industry is centered around planning and logistics, we can provide critical help when our communities need us the most. We should run toward these challenges and be proud to do so.
---
What is the JavitsCares program?
JavitsCares is a relatively new program where our employees work closely with event managers and exhibitors to repurpose exhibit materials after the conclusion of events. Once items for donation are identified, such as furniture, food and clothes, we reach out to a network of non-profit organizations throughout the New York region to determine which group may want to pick up the items. Even during this crisis, we have been able to donate thousands of items to local homeless shelters, which are struggling during these difficult times. For us, the program is a source of pride that not only advances our sustainability goals but positively impacts our community.
---
Has the pandemic impacted the timeline for completion of the Javits Center expansion?
Although operations have been somewhat limited during the COVID-19 outbreak, construction work on our expansion project has continued, and the project is still on track to be substantially completed by March 2021. With the addition of more than 1.2 million square feet of total space, we anticipate these new, state-of-the-art spaces will play a critical role in reinvigorating the local events industry by providing enough space for social distancing and other precautions.