Turning Point
Turning Point - An Interview Series
16 Jun 2020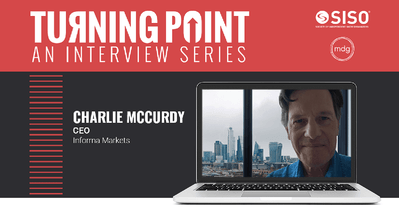 The COVID-19 pandemic continues to change the world—and the future of our industry. In order to stimulate creative thinking and help us all find the way forward, mdg and SISO have teamed up to bring you a series of interviews with key leaders in our space. In this installment, you'll find out what Charlie McCurdy, CEO of Informa Markets, is doing to make sure participants stay safe and feel comfortable when live events return.
---
Name one project or initiative that came about because of the pandemic that you're especially proud of?
We brought together peers from across our industry to create All Secure, which is now becoming the industry standard for health and hygiene protocols at exhibitions. It's been great to connect with some of our counterparts and industry associations in a really collaborative way as we all work toward the same goal—reopening the exhibitions industry with an agreeable standard of density, hygiene and detection. Informa AllSecure is how we'll be adopting this standard across our business, with a commitment to 10 priorities at all of our shows.
---
How has your organization handled scenario planning?
Having a large footprint in Mainland China helped us to understand the impact of the pandemic during the earliest stages, through our teams on the ground. Coronavirus got our attention early and we were able to launch our Postponement Programme, which focused on rescheduling our events to later in the year, or looking at localizing, virtualizing or rephasing them. Our priority was always to follow government and health authority guidance and to make the right decisions for our customers, our colleagues and our brands. To stay abreast of what has been a very fast-moving situation, I join weekly COVID-19 Executive Committee meetings and have set up regular meetings with my own Senior Management Team across Informa Markets. Our approach has been to plan for the worst and retain hope for the best, which so far has served us well.
---
What has been your biggest challenge during the pandemic?
The biggest challenge (having the exhibition channel suspended) has also brought about the greatest opportunity—that is, opening up the digital channel. The show hiatus has led our teams in every vertical market and every part of the world to quickly and effectively connect our customers with their communities digitally. And while I would never have wished for this experience, the pause in delivering exhibitions as usual has helped us to accelerate the large-scale delivery of high-value digital products and services. I think this dual-capability market-making practice will be sustainable.
---
Have you noticed (or made) any organizational changes that you'd like to see stick around long term?
We're thinking about physical and digital products in a more connected way and focusing on how we can use both to create more value for our customers. That shift in mindset is here to stay. Also, this fast-moving pandemic has necessitated speedier decision-making. We've had to really open the channels of communication across the business in order to get key decisions made and shared with our teams worldwide, quickly.
---
What do you think the 'new normal' for live events will look like?
Events are going to look very different in a post-COVID-19 world. We are working with our venue partners to put world-class bio-security measures in place at all our events in accordance with Informa AllSecure, which outlines how we can make meaningful shifts in procedure and planning to make sure our attendees feel comfortable. Also, we will take what we've learned in developing our digital products and services and fuse them with our live events to create greater value for our customers, all year round. Our tradeshows and hybrid shows will be pivotal in stimulating market growth and innovation and repairing disrupted supply chains' and we feel privileged to play our part.
---
What advice do you have for other leaders in the event space?
First, stay agile—the situation is changing on an hourly basis. Second, put your customer first. What is best for your customers is always best for your business in the long-term. And, finally, prepare for a very different show experience over the coming year and make a virtue of it.