Turning Point
Turning Point - An Interview Series
23 Jun 2020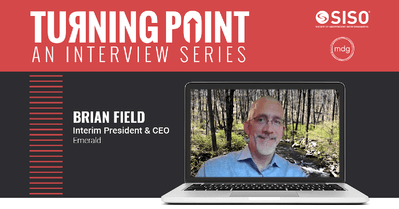 Brian Field, interim president and CEO at Emerald, thinks it's critically important to be open with what we know during this time of crisis. We couldn't agree more—which is why SISO and mdg have teamed up to bring you an inside look at how leaders in the events space are thinking through new challenges, adapting to meet today's demands and planning for the future. In this installment of Turning Point: An Interview Series, you'll learn how Field is fostering communication across his organization (and why he loves spending time in the forest).
---
How are you and your team monitoring the quickly evolving COVID‑19 situation? We have a standing meeting of our senior executives across business functions—from operations, finance, legal, IT, sales, marketing, communications and portfolio leadership—that meets daily. As the COVID-19 situation is extremely fluid, with new information and conditions changing on a daily basis, gathering as a team, sharing all available information and moving nimbly is extremely important.
---
What's been your greatest challenge? One of the biggest challenges during any crisis is maintaining open lines of communication. Especially now—in an environment where everyone is working remotely—information, and the sharing of information is even more critical. While no one can predict the future on when exactly we will emerge from this crisis, being open with what we know coupled with updates as conditions change, is supporting our staff and organization with a common purpose and focused direction.
---
What is something your organization has done over the past few months that you're proud of? I'm proud of the diverse offering of new digital products we have developed, implemented and sold into the market, and the dozens more already in the pipeline. These demonstrate the speed and agility at which we're able to respond to our customers' needs during this time.
---
How are you looking after your personal well-being? One of the things I do to stay grounded and maintain a healthy perspective is spending several hours during the weekend hiking in the forest. Seeing tadpoles darting around the ponds, baby chipmunks scampering through the woods and the songs of the birds, are all reminders that—COVID-19 or not—the seasons are all turning as they always have, untouched by the turmoil we're living and working through.
---
What advice do you have for other leaders in our industry? Be transparent with team members and share knowledge as it becomes available. No one knows exactly how current circumstances unfold; the timing, nuances are all shifting in real time. If you can share the facts, the team can work in a cohesive unit to plan for a variety of scenarios—but it won't be effective unless everyone feels comfortable sharing news, both good and bad.