Turning Point
Turning Point - An Interview Series
30 Jun 2020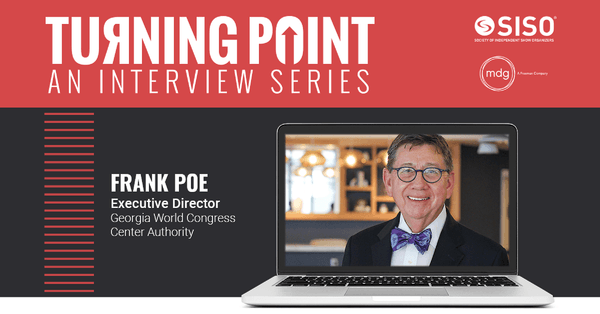 How can event leaders and venue operators work together in adapting to meet new challenges brought about by COVID-19? SISO and mdg have extended Turning Point: An Interview Series to venue operators to bring you their perspective and ideas. In this installment, you'll learn what Frank Poe, executive director of the Georgia World Congress Center Authority (GWCCA), thinks are the keys to a successful partnership as we prepare a return to live events.
---
What steps are you taking to create a safe environment for show organizers and their attendees?
GWCCA has created a comprehensive Business Return Plan (BRP) featuring 11 support functions ranging from crowd density and enhanced cleaning to touchless services and team member education and training to ensure the Authority's campus is ready to welcome guests back and host events. Key to this plan is our commitment to achieving GBAC STAR™ accreditation for cleaning, disinfection and infectious disease prevention, which allows our team members to deliver on our brand service promise in a safe environment.
---
What advice can you offer event leaders on partnering with their venue operator as live events prepare to relaunch?
We each play an important role in creating a safe environment for everyone involved with the execution of live events. Communication, collaboration and advanced planning will be critical. Share plans with event managers and public safety teams, ask lots of questions, and then do it again. Having a clear understanding of responsibilities will be paramount.
---
What do you think the future of tradeshows will look like inside a convention center?
While it is too early to speculate when things will return to normal, this pandemic has shown us that the desire to meet in person remains strong, but with changes and adjustments attached. Contingency planning and insurance will become an even higher priority, technology will have a greater presence, and we will undoubtedly see permanent changes to personal etiquette and health and safety protocols.