Turning Point
Turning Point An Interview Series
21 May 2020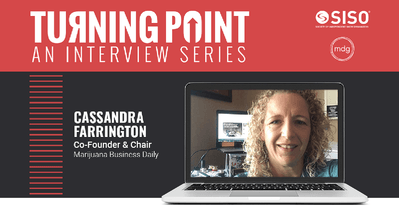 Leaders across the events industry are adapting their businesses, evaluating past practices and finding new opportunities in the wake of the COVID-19 pandemic. SISO and mdg have partnered to give you a peek inside the minds of some of the most forward-thinking individuals in our space, with a new series of original interviews. In this installment, you'll find out what Marijuana Business Daily Co-Founder and Chair Cassandra Farrington is doing to keep her organization agile—and her family focused on the positive.
How do you think this pandemic will shape the future of events?
I am confident physical events will recover and even thrive long into the future. That said, the lessons, tactics and techniques developed during the coming months will play important roles in events going forward. The customers who have unavoidable conflicts for our tradeshows will now still be able to participate. The smaller start-up companies who can't afford the full cost of exhibiting at the physical show will now have a viable alternative for participation. I am excited to explore the ways in which we will be able to add value for both the on-site attendees and the ones who participate in the tradeshow remotely.
What have you learned about taking a physical event online?
We are moving to execute on online-only and hybrid events now for the first time and are learning as we move forward. I am encouraging my team to think about the online participants in our tradeshow as akin to the TV viewership of a sporting event. Fans who watch the game at home still build up to the moment and participate actively in the game: they wear their game day jersey to work, plan ahead for snacks and drinks, and engage with social media in real time about great plays and terrible calls. There is a build-up to a point-in-time experience that is shared collectively, no matter where you are. Finding ways to tap into this collective build-up and experience will be critical to delivering maximum value for remote participants in events.
What has been your biggest challenge in navigating today's uncertainty?
Managing complexity is always the most difficult challenge. My approach is to keep my team focused on the goal—not the plan to achieve the goal. When the world is changing as quickly as it is these days, the plans will, by extension, have to change. Throughout those adjustments, the goal itself remains the "true north" guidepost underpinning the team and our efforts. Then, when a more effective path appears which will be a better one to achieve the goal, it feels like a win to change the plan to walk that path, rather than a disruption.
What learnings from your industry can you apply to the current situation?
Given our focus on the cannabis industry, my team is used to working in an environment in which a few weeks or months hold as many important developments as more established industries experience in a typical year. We have always needed to stay flexible in our business planning, responsive to changing customer needs, adaptable to competitive pressures. Those skills have been the ones we have relied on most in the past several weeks as the COVID-19 pandemic has impacted every element of every business around the world.
How are you keeping yourself motivated and positive?
While there is a lot that has been upended in our lives, there is still so much to be thankful for that we would never have experienced without this enforced stay-home situation. My family has started a game of "what do you *not* miss during the lockdown"? My kids say they don't miss being scheduled for every minute of every day, racing from school to orthodontist appointments to sports practice. I don't miss the pollution haze which typically obscures the views of the mountains from Denver, where I'm based. Focusing on what we don't miss helps us all take the greatest possible pleasures out of good things that are coming out of the lockdown—and dare I say it, we may be more mindful about our choices when choices are once again available to us.