Turning Point
Turning Point - An Interview Series
09 Jun 2020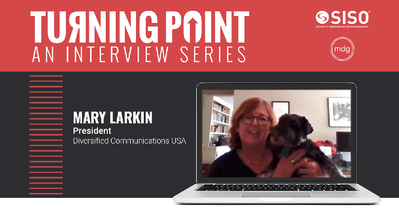 Across the events industry, leaders are working together, sharing information and creating solutions to challenges brought about by the COVID-19 pandemic. To add to this enhanced spirit of collaboration—and provide an oft-needed dose of inspiration—SISO and mdg are bringing you a series of interviews with some of the brightest minds in our space. In this installment, you'll learn why Mary Larkin, president of Diversified Communications USA, thinks working together now is essential to the future of the industry.
---
How have you approached scenario planning in relation to the pandemic? In late February, we brought the leadership team together as the de facto crisis management team, dealing with show postponements, working with customers, preparing for closing the office and setting teams up to work from home. This team is now divided into smaller groups according to the type of decision, such as reopening the office or running virtual events.
---
What is something your organization has done over the last few months that you feel especially proud of? We have had town hall meetings with our customers, changed a magazine from print to digital, implemented a portfolio review and, in general, have been transparent and visible. We rolled out Teams while working from home as a way of keeping in constant contact with colleagues, vendors and—in many cases—customers.
How are you staying motivated and positive? By remembering that this will eventually end. It's been a very hectic few months—in fact, I think we have worked harder than ever and probably many more hours, which makes the weeks pass by very quickly. Also, I've reached out to people who I haven't been in contact with, and it's been great reconnecting with my family and old friends.
---
What is the best piece of advice that you can offer other leaders in our industry? Reach out to other organizers. Even in normal times, we in the exhibition and events industry are unique in how much information we share with each other; in these turbulent times, the collaboration among companies has risen to a new level, which is truly inspirational. Sharing information on best practices on how to reopen the doors to events, from venues to organizers, will be key in ensuring a strong future for the industry.
---
What learnings from past challenges (e.g. 9/11 terrorist attacks, 2008 recession) can you apply to the current situation? This situation has been different to all the above-mentioned challenges. It's ongoing with no definitive end in sight and it has impacted everyone, not just segments of the economy. For me, the major learning from past challenges has been recognizing the need to move forward, make swift but not premature decisions and evaluate how to constantly improve or make the best of the situation. What do you think the future of events will look like? Our industry will change as a result of this crisis — we will recover, but under a new normal. It may take a long time before events recover to 2019 levels, but there are opportunities for specialized events in more niche markets. We are seeing a drive from our smaller community events to ensure they can meet. There will be distancing rules, registration process changes and perhaps new floorplans, but we will adjust and find new ways to bring buyers and sellers together.
---
Are there any organizational changes that came about because of the pandemic that you'll keep in place? The opportunity provided by virtual events and digital opportunities have given us the ability to keep in close contact with our customers year-round. Also, those of us in cold weather climates know that snow days will never be the same again!