Turning Point
Turning Point - An Interview Series
04 Jun 2020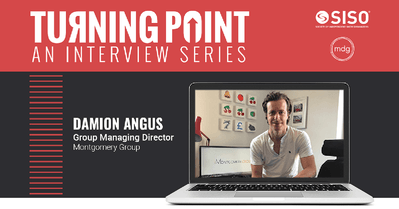 SISO and mdg have partnered to bring you a look inside the minds of some of the most forward-thinking leaders in the event space. This series of interviews focuses on the pandemic's impact on our industry, and how the people behind top organizations are adapting to overcome new challenges. In this installment, you'll learn what Damion Angus, group managing director at Montgomery Group, sees as the biggest takeaway from another recent health crisis.
---
Are there any learnings from past challenges that you think translate to the current situation?
The most recent and most closely comparable challenge we have faced would probably be the emergence of Ebola in West Africa in 2014. This affected a number of our shows in Nigeria and had a severe impact on that African business. In terms of learnings, I think my biggest takeaway was that you cannot overdo communication with your communities. Keeping exhibitors and visitors updated on what your plans are, working with them to find solutions and really understanding their concerns made all the difference then, and I believe that holds true now.
---
How is Montgomery Group approaching scenario planning during the pandemic?
We've set up a Business Continuity Team, consisting of the divisional heads across the world, and we "meet" every Monday. There's also an optional drop-in session on Thursdays, where this group can share ideas about what's working for them and what's not. These measures help ensure that we're continually learning from each other. Also, we set up a wider set of working groups involving the next level of leadership in the business. These groups are currently looking at the future of our industry, how COVID-19 will affect our communities and what the longer-term view of a return to the office might look like.
---
Are there any organizational changes that came about because of the pandemic that you'll keep in place?
This pandemic has forced us to embrace technology to better communicate and streamline our remote working capabilities. This will undoubtedly change how our office is structured, how certain meetings take place and how flexible we become in working from home. I can't tell you how much I miss the physical meetings round a table and how much can be achieved by sitting together, but I also feel closer to our international teams than ever before.
---
As a leader, what do you see as your biggest challenge right now?
The biggest challenge is the unknown nature of what we're dealing with. Most issues that affect the business allow you to make informed decisions based on facts. This gives you the opportunity to put a specific strategy together and give your teams clarity. With COVID-19, there are so many potential outcomes and the timelines are unknown. It forces a very fluid style of leadership.
---
Please tell us about an initiative from the last few months that you're especially proud of.
We implemented the Montgomery Group webinar series to service our communities and to help them navigate the issues that they're facing. I would never have believed that we would have received such an amazing take up and I feel very proud of the teams who are serving our customers in such an insightful way.
---
How are you keeping yourself positive and motivated? I am predominantly surrounded by positive and enthusiastic people who relish a challenge, and as a business, we're focusing on what we can do coming out of this to make us stronger. I tend to look at the world day by day, and the fact that it's spring here in the UK and the mornings are light gives me all the motivation I need to get going. Montgomery has survived 125 years with no shortage of hurdles and that provides a certain level of comfort, while also inspiring me to continue building a great business.