Turning Point
Turning Point - An Interview Series
19 May 2020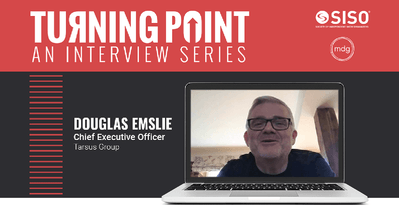 How are leaders in the events industry thinking about the future and adapting to meet new challenges brought about by COVID-19? SISO and mdg have teamed up to bring you insights, ideas and inspiration in a series of interviews with some of the smartest minds in our space. In this installment, you'll learn what Douglas Emslie, chief executive officer at Tarsus Group, thinks about going digital—and why he's running so much.
---
What has been your biggest challenge in navigating today's uncertainty?
Those of us in the events industry are flexible by nature, but this situation has been a huge test in dealing with multiple moving parts all at once. It has been a challenge to balance business planning, staff welfare and being part of a joint industry response, but I'm really pleased with how all of Tarsus Group has come together.
---
How are you keeping yourself motivated and positive?
Having been bitten by the running bug again a few years ago, training for and running marathons has been a great way for me to switch off from the day-to-day pressures of running the business. I was training for the Tokyo and Boston marathons this year—both of which were subsequently cancelled—and I now find myself stuck in a very long training block, as we don't yet know when those events will take place!
---
What advice do you have for other leaders in the industry?
In a situation like this, where so much is beyond your immediate control, worry can very easily cloud your judgement. I would advise industry colleagues not to lose sight of your core business in a rush to mitigate against current losses.
---
What role do you think hybrid and digital-first event formats will play down the line?
We are and always will be a face-to-face industry and whilst increased digital focus is both important and inevitable, it cannot replace our core business. Now more than ever, we need to stay close to our customers and deliver products—be they face-to-face, digital or a hybrid of both—that will kickstart the rebuilding and recovery of industries.
---
What do you think the future of our industry looks like?
Many opportunities will arise from this difficult situation. We have all learnt a lot during this period, and it will shape the future of events. The global nature of Tarsus Group's operations means that we have barometers in numerous locations, and we're learning from what is happening in key territories. Given that the Hunan Auto Show ran successfully recently, I believe we are likely to see increased activity across Asia over the summer months and increased pace elsewhere come August/September. Our own Connect division has committed to running their major annual show this August in New Orleans, all of which is being built upon their pioneering Safe + Clean plan.
---
Are there any organizational changes that came about because of the pandemic that you'll keep in place?
This situation has enabled a lot more interaction and collaboration across the business. Staff have stepped outside of their immediate event teams to learn from each other. We will keep our new communication channels—such as all-hands Zoom meetings—open going forward.

I'm really pleased with how quickly we've adjusted our working practices as a business. When we are ready, and it is safe to go back to the office, we will be led by both business operations and staff preferences in shaping what that should look like.