Turning Point
Turning Point An Interview Series
02 Jun 2020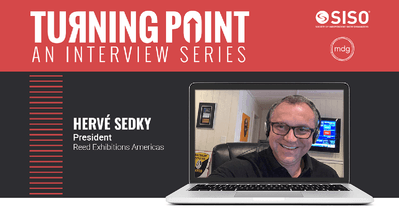 Fresh perspectives spur creative thinking and help us translate the impact of the COVID-19 pandemic into new opportunities for the event industry—which is why mdg and SISO have partnered to bring you a series of interviews with some of the most innovative leaders in our space. In this installment, you'll learn how Hervé Sedky, president of Reed Exhibitions Americas, is leading his organization through crisis—and why changing your mind isn't a bad thing.
---
What do you see as the toughest challenge brought about by COVID‑19?
Alleviating the worries of our customers and employees. Their energy and time are being pulled in many directions as they balance the demands of home and work. Our people mean so much to us, and it's critical that we communicate frequently, transparently and honestly in order to decrease their anxiety and stress. The more information and updates we provide in a timely fashion, the more supportive we can be.
---
What are some of the positive things happening in our industry?
I am proud of the collaboration happening amongst competitors. We've banded together to craft new health and safety standards and communicate the multiplier effect of shows. We're working side-by-side to utilize data to advocate for the industry and rally support from legislators.
---
What should other industry leaders keep top of mind right now?
It is an incorrect assumption that people do not like change; what they don't like is change they don't understand. It is up to us as leaders to link exactly what the changes mean to our businesses and to our employees on a personal level. When we take a fully-informed leap to a new platform together, we have unified direction and a strong sense of understanding, purpose, and intentionality. The COVID-19 pandemic is a burning platform, encouraging us to adjust and evolve our ways of doing business. We have an opportunity to emerge stronger than ever.
---
What learnings from your past do you find especially relevant to the current situation?
Past experience has taught me that it's important to remain flexible. When managing through a crisis—whatever the crisis—it's crucial to make decisions based on facts. We make the best decisions we can given the information on hand, and changing those decisions isn't a sign of weakness. We must roll with the punches, be comfortable modifying and adjusting the roadmap as the situation evolves and focus on what we can control—our reactions to developing situations.
---
Have you noticed any commonalities in how leaders (in or outside our industry) are responding to the pandemic?
During this time, there are two types of leaders surfacing. One leadership track assumes a passive, "this too shall pass" approach. This method relies on the presumption that the crisis will come and go, with business resuming as before. The second type of leadership is one which embraces "the new normal." They understand that things are changing (and fast!). They realize that we must adapt to and evolve with this emerging new normal. They are willing to incorporate informed changes and make important business and life choices, which ultimately lead to success.
---
What do you think that 'new normal' looks like?
Our new normal will be the creation of fully-integrated online and offline experiences. Now is a wake-up call for us as an industry—we are too often reliant on physical events, and there are many ways for us to connect with our customers beyond the physical experience. Live, in-person events will remain our business anchors, but we must continue conversations using online platforms. Such initiatives will offer meaningfully connected experiences for a global audience, which will last long into the future.