Turning Point
Turning Point - An Interview Series
02 Jul 2020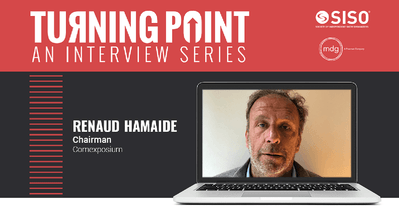 How are show organizers adapting to new challenges and focusing on the future amid the COVID-19 pandemic? In Turning Point: An Interview Series, SISO and mdg bring you insights and inspiration from some of the leading minds in our space. In this installment, you'll learn how Comexposium Chairman Renaud Hamaide is drawing on his French roots and past experiences to find his way forward.
---
What has been your biggest challenge in navigating through uncertainty?
Keeping up confidences. Everyone is dealing with uncertainty—our teams, leadership, customers, suppliers, shareholders—and they are looking for answers and assurances. I truly believe that face-to-face events will continue and will be successful in the future. People will still want to meet, network and share their passions. So right now, my biggest challenge is sharing that confidence with the different groups, and addressing their different needs, when I don't have a lot of concrete answers.
---
What past learnings have you drawn from to address this challenge?
I'm French! We are always facing challenges. You can't imagine the number of strikes we've faced. Add that to the gilets jaunes demonstrations over the past couple of years, the Bataclan terrorist attacks a few years ago, the recessions in 2008, so we've had plenty of opportunities to learn from challenges. There are some commonalities from each challenge — timely communication is always important, as is trust and strong relationships. But I think the biggest learning is that people want to get back to doing what they do. It's amazing how quickly after a big incident we forget about it. In 6 to 9 months' time, once this is 'over,' I believe it will just be a distant memory. Some things will have evolved, more digital tools and solutions of course, but the majority of our business will be the same.
---
Really? You believe live events will continue to flourish?
The core of events, creating connections, hasn't changed in hundreds of years, and COVID-19 isn't going to change it either. If there is a lesson we've learned from this quarantine period, it's that people want to be together. We want to see one another face-to-face. However, over the next 12 months, we will see fewer physical attendees across events. We are looking to create hybrid events, so those who can attend in person do, and those who can't (and hopefully broader audiences as well) will have an online option. This should keep exhibitor pipelines full, creating plenty of quality leads, as well as giving attendees meeting options to fulfill their business needs.
---
What have you learned about taking a physical event online?
A great thing about online events is the speed in which they can be organized and produced. When there is a pressing need, we can bring the right people together very quickly to share and exchange. We recently hosted a webinar where over 2,000 heart surgeons discussed and learned the latest thinking and technology in cardiac surgery for COVID-19 patients. We were able to meet the demand for the information at exactly the right time. Of course, we know the surgeons will still want to get together for their annual conference, where they will discuss many topics, see new technologies and advancements, and network with each other. But to treat an immediate need, a time sensitive topic, online gives us a lot of speed and flexibility.
---
What has been your approach to scenario planning? Has it changed over the course of the pandemic?
When the virus first emerged, we created a crisis committee to ensure the health and safety of our people and look after immediate business concerns. As 'immediate' concerns became less pressing, we set up more future-focused working groups. Currently, the two main focuses are: (1) looking at health and safety guidelines for reopening and (2) examining what sort of digital, online and hybrid solutions will best serve our customer communities. Each time we are able to take the next step, and focus a little further into the future, it shows that we are making progress.
---
What is something your organization has done during the pandemic that you feel proud of? When nearly all the world was in some form of lockdown, we had over a thousand employees working from home, really rising to the challenge of working at a distance. They did the typical things like daily video meetings and using collaboration platforms like Teams, but they also got together socially, with yoga online, themed after-work drinks, etc. To some, this may seem old fashioned, but I couldn't be prouder of how we adapted and kept our spirits up. It has changed my attitude toward working from home, and having more flexibility in-office and at-home will continue in the future.